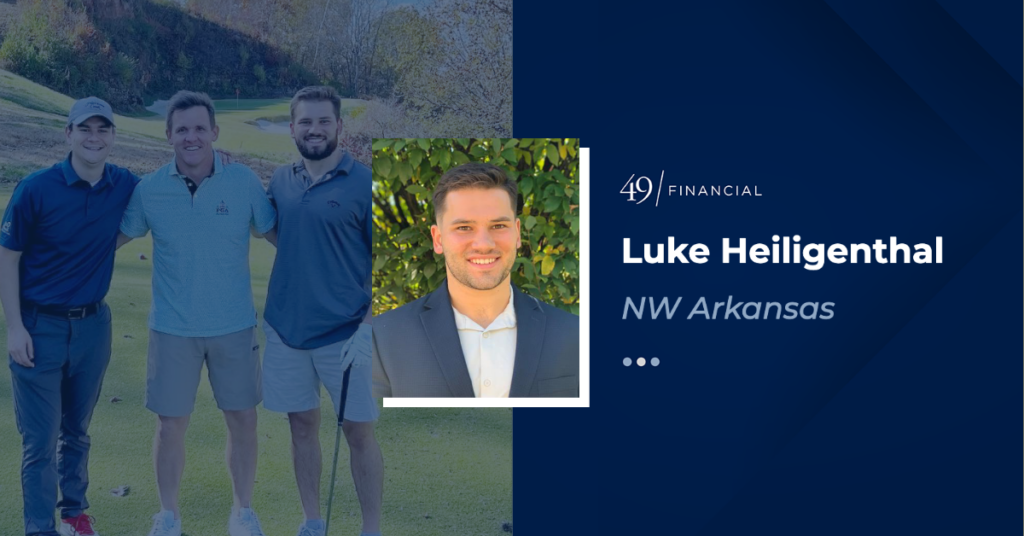 Luke Heiligenthal, an Arkansas-based financial professional, has found his calling in guiding families toward financial clarity and helping them achieve their dreams. He is grateful for the community and culture at 49 Financial that enables his growth and development.
For Luke, the most rewarding part of being a financial professional lies in the sense of community. He has witnessed an incredible community at 49 Financial that is centered around excellent client service and a teamwork model. Luke notes that "The work we do is very fulfilling, but it is too good to be easy. That is why we do it as a team – to pick each other up."
While discussing 49's core values and how we live them out, Luke highlights how he has seen the impact of gratitude set perspectives and guide actions. "From endless small notes of appreciation to life-changing sacrifices, a culture steeped with appreciation for fellow community members is what I've experienced in my time here."
In his free time, Luke loves being active with friends, whether that is playing golf, basketball, or pickleball. He also has a love for reading and shared that How to Win Friends and Influence People by Dale Carnegie as well as C.S. Lewis' space trilogy are some of his note-worth book recommendations.
Luke not only has a passion for working in finance but strives to make a meaningful difference in his clients' lives each day. We are thankful for the contribution that he makes to our team and as a leader, and we are expectant of his continual impact professionally and personally.