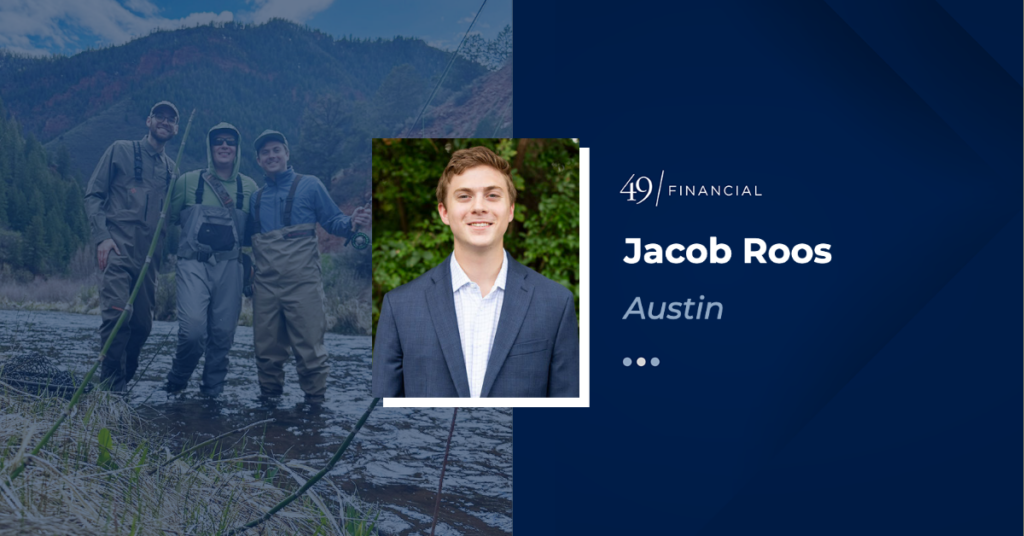 At 49 Financial, our financial advisors utilize their expertise to guide clients toward their financial goals. Jacob Roos, a dedicated financial professional in our Austin office, is an incredible example of this. With a passion for fostering meaningful relationships and a genuine desire to help others, Jacob brings a fresh perspective to the world of financial services.
When asked about his career choice, Jacob explains, "I saw an opportunity to create mutually beneficial, lifelong relationships in the business world. I loved the idea of building a book of clients and getting to have meaningful conversations with them about fundamental aspects of their lives and aspirations, and then getting to help play a role in getting there." It is evident that Jacob's decision to pursue a career in financial services stems from his belief in the power of connection and the ability to positively impact lives.
For Jacob, the most rewarding aspect of being a financial advisor is hearing the heartfelt expression of gratitude from clients. He shares, "Getting to hear 'thank you' from serving some of the people that I grew up thanking, respecting, and admiring" brings immense fulfillment. Jacob's genuine empathy and commitment to serving others shines through, making him a trusted ally for his clients in navigating their financial journeys.
In his spare time, Jacob enjoys all things sports, especially rooting for the San Antonio Spurs. He loves potluck dinners with friends, traveling to the mountains, and reading. When asked about a few of his top recommendations, Jacob shared that Daily Stoic by Ryan Holiday is a consistent daily read for him.
Through his passion for building lifelong relationships, his dedication to client satisfaction, and his embodiment of our core values, Jacob is a trusted and integral part of our team. We feel confident of the impact he will continue to make!