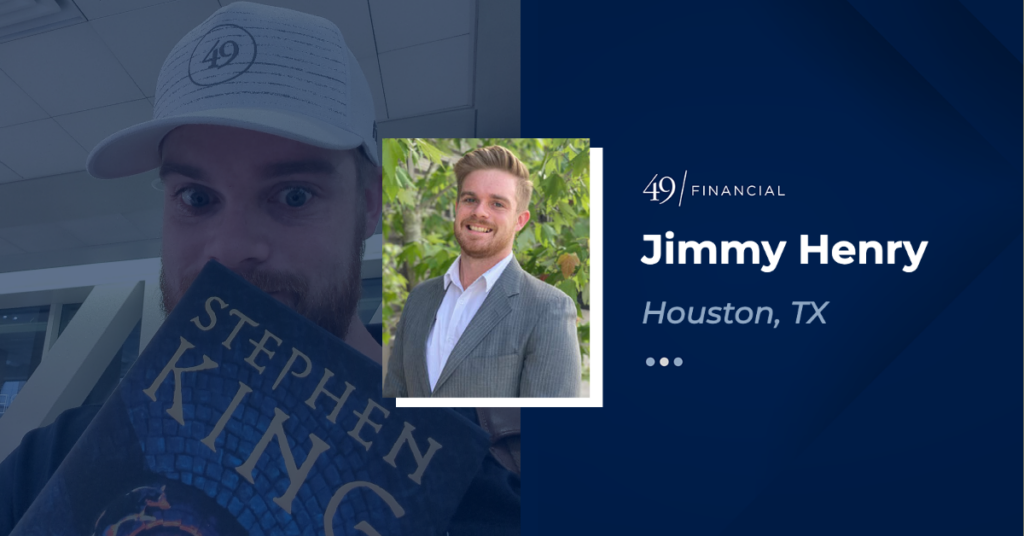 Meet Jimmy Henry, one of our dedicated financial advisors in our Houston office. We have loved getting to hear more of his heart for the career, his clients, and our team.
When asked why he decided to pursue a career in financial services, he shared, "I realized I had a passion for finance early in high school as my family was coming out of 2008, and I saw the aftermath of it for us. When I came across 49 Financial, I knew the values and team-focused approach was exactly the right way for me to maximize my impact in an area of peoples' lives I felt called to work in."
Gratitude is a top value for us, and Jimmy has seen it in action, sharing, "Whether it's recognizing someone who's been working really hard, highlighting an amazing client story, or our Shoutout emails, 49 constantly reminds me of the value that an attitude of gratitude can have in contributing to a strong culture and to day-to-day happiness."
In his free time, Jimmy enjoys singing in his church choir and spending time with the Illinois Alumni Club in Houston. He's also a big reader and would recommend Obstacle is the Way by Ryan Holiday and Way of Kings by Brandon Sanderson for both non-fiction and fiction readers.
Jimmy's commitment to building deep relationships and his appreciation for our culture make him a valuable addition to 49 Financial. He continues to provide care for his clients and support for teammates every day. We can't wait to see his continued impact here at 49!