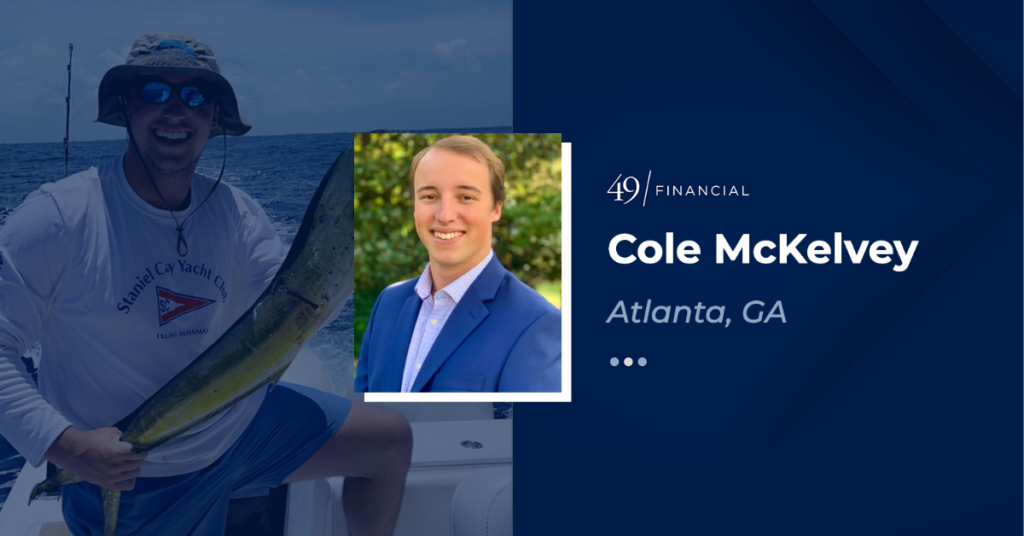 We had the chance to sit down with Cole McKelvey, one of our financial professionals at 49 Financial in Atlanta and hear more about the impact he is making in the financial services industry.
For Cole, one of the most rewarding aspects of working in finance is seeing the difference he can make in people's lives. "When I get to see my clients around the United States, it is a time for us to get caught up and go through the plan that we established for them," he says. "I love walking through life with my clients, seeing them achieve financial freedom and being a part of that process."
As a young person working in financial services, Cole sees many advantages. "You have the opportunity to build long-term relationships with clients and help them achieve their goals throughout the duration of their retirement," he says. "With the support of the whole firm, you can create a tremendous impact and do a job in your early 20s that most people don't have the opportunity to do until they are in their 30s or 40s."
Outside of work, Cole is an avid outdoorsman and loves to fish and hunt. He's also a college football fan and enjoys watching Alabama games on Saturdays. When he's not outdoors or watching football, he likes to fly planes. He is even working to get his private pilot license! As he puts it, "Flying is a great way to clear your mind and get away from it all."
Cole is such an asset to our team and embodies our mission statement of "Creating Community and Simplifying Lives." We look forward to the impact he will continue to make in his clients' stories.