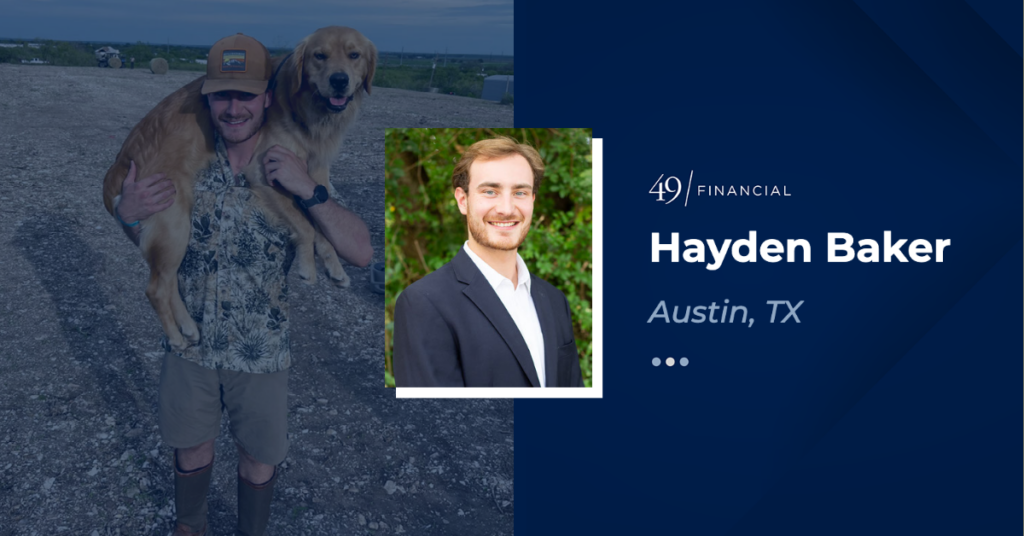 Today, we want to highlight one of our advisors, Hayden Baker, who works in our Austin office. Hayden's dedication to his clients and his passion for finance continue to make him an invaluable member of our team. We're excited to share more about him and his work here at 49 Financial.
One of our core values is loyalty, and Hayden has seen this value lived out firsthand. He shared, "Our advisors truly want the best for our clients, and sometimes that means going the extra mile to help someone." Hayden shared he's even seen advisors drive hours to meet a client just to help walk them through their paperwork, demonstrating the level of commitment in their relationships.
Hayden touched on the immense value of young professionals entering the finance industry. He notes, "Young professionals have the hunger and drive to dig a little deeper, push a little further, and do whatever it takes to ensure their clients are served to the best of their ability. However, they also need guidance and resources to strengthen their knowledge." At 49 Financial, we pair young advisors like Hayden with more experienced advisors so our clients receive the best service possible with our team here at 49.
In his spare time, Hayden loves to be outside, whether he is mountain biking, fly fishing, hunting, or running the town lake trail in Austin. If he had to recommend one book, Hayden suggests Extreme Ownership by Jocko Willink. This book has changed his mindset about what he's responsible for and how he can make a greater impact on those around him.
Hayden's passionate dedication to his business has made him an exceptional advisor and leader. We are so proud to have him on our team and look forward to seeing his continual impact here at 49!