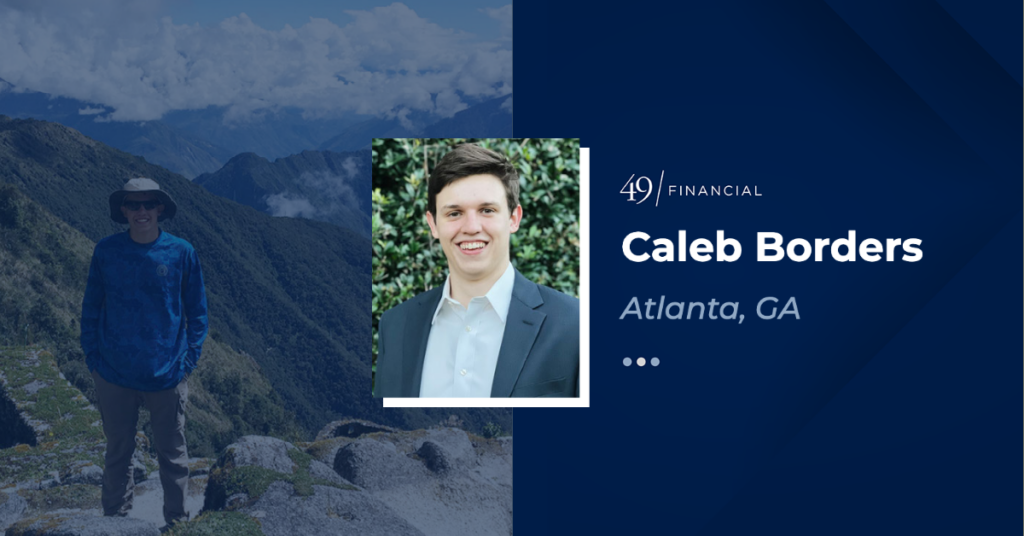 At 49 Financial, we pride ourselves on the talent and commitment of our team. One of our standout advisors is Caleb Borders, based in our Atlanta office. Caleb has a passion for serving others through financial planning, making him a huge asset to the company.
When asked why he decided on a career in financial services, Caleb shared he originally thought he would pursue an analytical role, but after working as a tour guide on campus, he also wanted to work in a people-focused career too. "Financial planning became an easy choice after school because it brought together the two sides I wanted – analytical, critical thinking skills with interacting with people," Caleb explained.
One of the core values at 49 Financial is authenticity, and Caleb has seen this value come to life every day through his work with clients. "When we talk with clients, I get to watch advisors live out true authenticity through our strategies we recommend to them – created from a place of service rather than greed and ego," Caleb shared. "Our clients walk away knowing that our recommendations are not influenced by anything other than their specialized needs. This gives me ample amounts of confidence that we can help serve anyone when you truly act in the client's best interest every time."
Outside of work, Caleb loves to stay active and is super competitive, whether it's through playing golf or pickleball or trying out new sports. He also enjoys spending time with his wife, friends, and coworkers, as well as giving back to his community through his involvement in the Chamber of Commerce and his local church.
Caleb's dedication to his clients and his passion for financial planning make him an invaluable member of our team. We are proud to have him as a part of 49 and look forward to seeing the impact he continues to make for our clients.