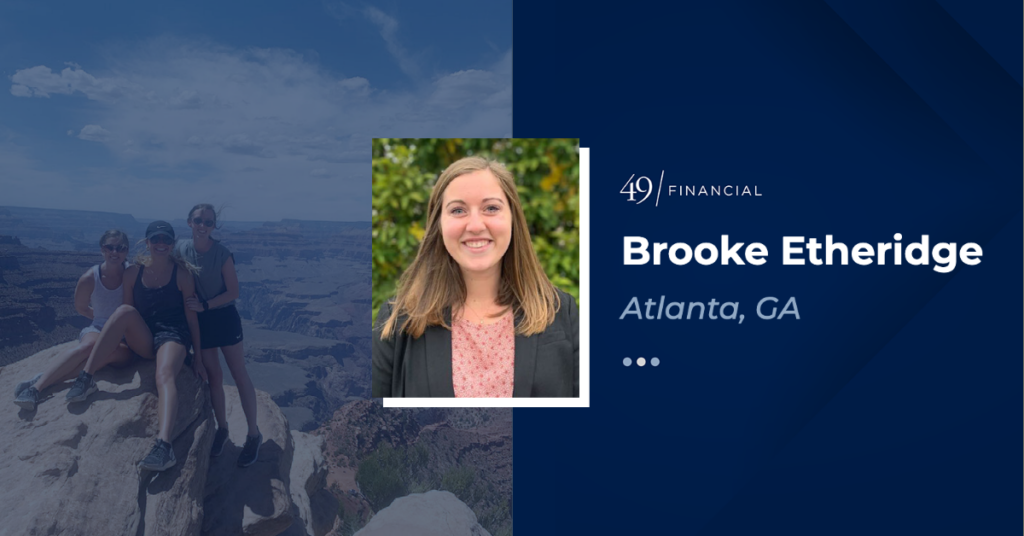 Meet Brooke Etheridge, an Atlanta-based advisor here at 49 Financial. We had the chance to hear from Brooke as she shared what led her to the financial services industry, how she cares for her clients, and her appreciation for 49's culture.
Brooke's genuine interest in people and her knack for numbers made stepping into the financial services industry an easy decision. She says, "I chose a career in financial services mainly because I was really good at numbers and math; however, I love getting to know people, learning from their successes, and hearing about their passions." By combining her two passions, Brooke creates a unique and valuable experience for her clients.
Brooke shares that her relationships with her clients motivate her in her work, "the most rewarding part of being an advisor is getting to walk alongside my clients as they reach their goals, experience life events, and celebrate successes. They have allowed me the opportunity to sit in the front row as they make incredible impacts on the world!"
Gratitude is one of our core values, and Brooke notes how she sees it lived out each day. "I remember sitting with another advisor just last week, walking through a scenario that she had experienced in one of her cases. We walked through it and some different ways in which we could go forward. Later that evening, I got a message from her thanking me for my time and advice." The culture of gratitude and collaboration has fostered an environment where advisors can rely on one another to best serve their clients.
Outside of work, Brooke loves to be with friends and in the community, maintaining a healthy work-life rhythm. Whether it's cheering on the Georgia Bulldogs, playing pickleball, hiking, exploring new small towns, or going to concerts, she makes the most of her time off.
Brooke's commitment to the development of her business and to cultivating deep relationships with her clients and coworkers is inspiring. We are grateful for the pivotal role she plays at 49!