Great Place to Work and Fortune magazine have named 49 Financial as one of this year's Best Workplaces in Texas! We're thrilled to announce that this year we've come in ranking at #5 on the list due to our incredible employees words and testimonies. Thank you to all our people for being the reason to make this possible. All of you together make 49 Financial an incredible workplace where there is both incredible impact in our work to serve clients as well as countless fun along the way.

This year's Best Workplaces in Texas award is based on employee feedback collected through America's largest ongoing annual workforce study of over 1 million employee survey responses and
data from companies representing more than 6.1 million U.S. employees. In that survey, 100% of 49 Financial's employees said 49 Financial is a great place to work. Great Place to Work is the only company culture award in America that selects winners based on how fairly employees are treated. Companies are assessed on how well they are creating a great employee experience tha
t cuts across race, gender, age, disability status, or any aspect of who employees are or what their role is.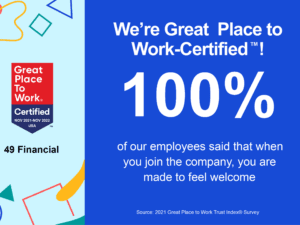 We are blown away by the kind words our employees shared about 49 Financial. Here is what one our people had to say about their experience at 49:
49 Financial does a great job of finding the right people to work for the company that embody the culture. Everyone here is very supportive and caring of each other and I love that it extends to our clients. The mission to revolutionize finance is a daring deed, yet with the way we are doing it I can see a lot of growth in the company. I cannot wait to impact the lives of many as the years go forward.
We look forward to continually growing and improving together! If you're interested in being a part of what our team is doing, we'd love to talk more with you. Click here to to start the conversation today!